Mama's space for daily


Connection

Education

Validation

Inspiration
A maternal mental health community providing a space to learn, grow, and heal
The Support In Motherhood You Deserve
The Matrescence Membership Community
A community of mothers and moms-to-be who are working together to make lasting lifestyle changes, improve their mental and physical well-being, and devote space to themselves.
Expert-curated guides and resources designed to support your emotional wellbeing on your quest for personal growth.
FREE SUPPORT IN YOUR INBOX
Our favorite wellness strategies, top recommended products, discounts, and more are delivered straight to your inbox!
When a child is born,
so is a mother
We understand that everyone's journey into motherhood looks different. We are working towards shedding expectations and stigma to embrace every woman's story. Matrescence (sounds like adolescence) is defined as the physical, psychological, and emotional changes one goes through during the monumental transformation that is motherhood. Let us serve you in this space. We are here to help you navigate through the fog of this identity shift by giving you the grace and support you need. 
93% of mothers reported feeling burned out, at least occasionally
According to the 2021 State of Motherhood report by Motherly
The Matrescence Membership
We connect women facing similar challenges in a safe place, allowing for open and honest conversation. Our global members-only community allows for personal connection with other women and exclusive expert-curated content encouraging and empowering you to be your best self. Combining personal experiences and science-backed research, we provide actionable strategies, coping mechanisms, and accessible educational resources focusing on maternal wellness.
We're here to break the stigma
75% of women who experience maternal mental health symptoms go untreated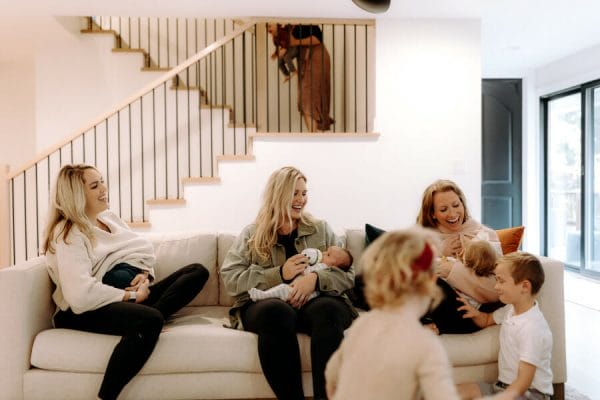 This space is for you, mama
Our team of accredited professionals are on a mission to change the landscape of maternal mental health and to identify its role and importance to overall wellness. Addressing the stigma that divides women from appropriate support and accessible resources to navigate, overcome, and thrive in the joyful (and somewhat tumultuous) journey that is motherhood.
Throughout pregnancy and motherhood, focus is primarily placed on the physical health of the woman and baby. Although most women have heard of maternal mental health issues, few are told the signs to look for, the various ways of which it can manifest itself in your life, and where to seek help. The Matrescence was born out of a desire to help other women navigate their experiences with maternal mental health and wellness. We provide a platform of evidence-based resources, access to live discussions with industry experts, and more importantly, a community to support, uplift, and empower one another through connection.